TOP PAGE

TOP GUN G-1

FLIGHT SUIT

TOPGUN CAP

TRUE ROMANCE

BTTF DENIM

BTTF DOWN VEST

BTTF SHIRT

FIGHT CLUB CALF

TOUCAN SHIRT

MAPLE LEAF

MOTOCROSS

BLACK SUGAR

STAR T-SHIRT

TRACK PANTS

DOWN VEST

MAYHEM

SOCK IT TO ME

BLACK RIDERS

BATH ROBE

TERMINATOR

T2 / T2 PANTS / T3

ROCKY

RAMBO

SEVEN

FURY

MIDNIGHT RUN

DONNIE BRASCO

i,Robot

LETHAL WEAPON

THRILLER Stadium

THRILLER

BEAT IT Jacket

BEAT IT T-shirt

REBEL w/o a CAUSE

INDIANA JONES

AN OFFICER &
A GENTLEMAN

PRETTY WOMAN

KILL BILL

WALLET

JACK SPARROW

WILL TURNER

WILL Leather Coat

MORPHEUS

The BEACH

LÉON MATHILDA

SILVER DOG TAGS

Screen Accurate FIGHT CLUB Black Sugar Tank Top



This is the most screen accurate replica of the Black Sugar tank top wore by Tyler Durden (Brad Pitt) in "Fight Club".

All photos are exactly same as the original one, same sizes and positions. Actually, the original front and back panels were not made from a same patterned roll. We made those different sheets and reproduced exactly same front and back as the original. BACK VIEW COMENTARY by Manager

Tyler Durden wore a shorten one, we set the original size he wore as "Medium" "Tyler". Please note that the other sizes have a shorten or extended graphics(we don't scale or zoom the graphics) like the lower left comparison with 3XL Regular. However, we make any sizes look almost same, please choose your right size.

Due to the pornographic pictures, we don't ship to countries which these pics are illegal, and we don't take any responsibility for confiscation or punishment, and we don't refund without return.

Polyester 100%, new never worn.


The sizes are Japanese.
Please check the size chart and compare your tank top or T-shirt.



The leangth of Tyler version is approx 3 inches shorter than the Regular one.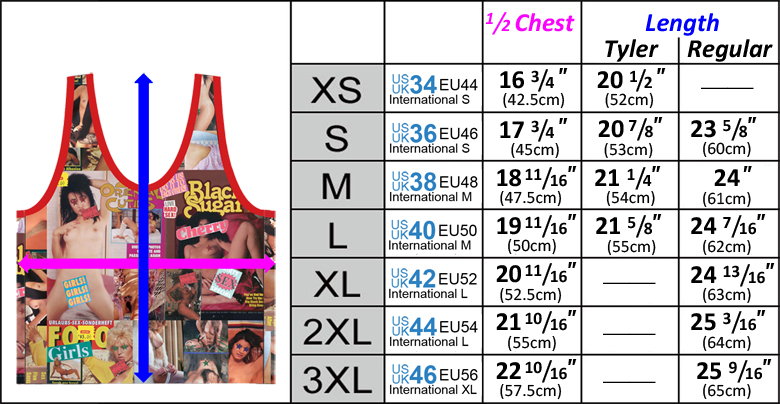 he standard post is US$8 to most countries, but it's not available (to U.S., Canada, Australia, Russia, and some more countries), or very slow (to UK.EU) now. We'll let you know the availability when you order.
The expedited shipping is $21 to U.S./Canada (DHL 2-3 business days), $24 to UK/EU(DHL or EMS), $17~to Asia (DHL or EMS).
If actually lower, we will refund the difference.
To the other region, please contact us.

JP Size
Length
Price
Availability

ITEM NAME:

BlackSugar

XS
Tyler
$74.99

in stock

S
Tyler
$74.99

in stock

Regular
$74.99

in stock

M
Tyler
$74.99

in stock

Regular
$74.99

in stock

L
Tyler
$74.99

in stock

Regular
$74.99

in stock

XL
Regular
$74.99

in stock

2XL
Regular
$74.99

in stock

3XL
Regular
$74.99

in stock