This is a screen accurate replica of the leather wallet owned by Jules (Samuel L. Jackson) in "PULP FICTION".

It has not only the accurate embroideries, but also the accurate leather color and skin texture.
We can't see the left insde of the original wallet in the movie clearly, so we added the coin pcket for convenience.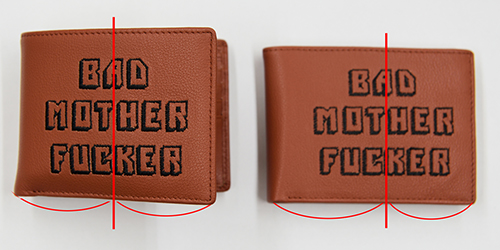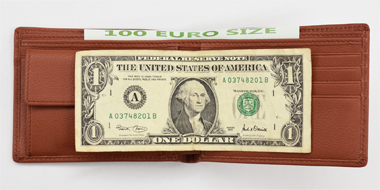 Thes size is exactly same as the one used in the movie, 3 1/2" x 9 1/4"(90 x 23.5cm) unfold, so €100 will be like the right photo. The embroidery is also located exactly same, it looks centered when the wallet is fat.

he standard post is US$8 to most countries, but it's not available (to U.S., Canada, Australia, Russia, and some more countries), or very slow (to UK.EU) now. We'll let you know the availability when you order.
The expedited shipping is $20 to U.S./Canada (DHL 2-3 business days), $23 to UK/EU(DHL or EMS), $15 to Asia (DHL or EMS).
If actually lower, we will refund the difference.
To the other region, please contact us.

*We can make the "screen accurate" brief case with the original FRANZEN locks. Please contact us if interested.

JP Size

US Size
Price
Availability

ITEM NAME:

BMF-Wallet

-
-
$49