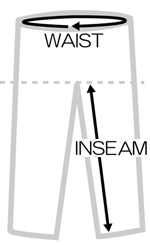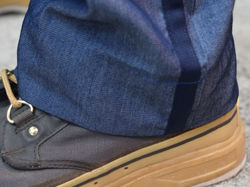 Please choose a size exactly along your waist measurement, and let us know the inseam you'd like to order, we'll raise the hem like the sample in the picture.
If you hem up by yourself, we'll ship it unhemmed (the hem is just overhand stitched), and discount $9.
The standard post is US$8 to most countries, but it's not available (to U.S., Canada, Australia, Russia, and some more countries), or very slow (to UK.EU) now. We'll let you know the availability when you order.
The expedited shipping is $18 to U.S./Canada (DHL 2-3 business days), $22 to UK/EU(DHL or EMS), $14 to Asia (DHL or EMS).
If actually lower, we will refund the difference.
To the other region, please contact us.
If you buy FIGHT CLUB BELT & BUCKLE at the same time, we discount $9 and pay extra $6 shipping cost, ACTUALLY $15 DISCOUNT!
Waist Size
Price w/hem-up
w/o hem- up
Availability

Item Name:

FCWORK

29" (73.5cm)
$43.99

$34.99

30

"

(76cm)

$43.99

$34.99

31

"

(78.5cm)

$43.99

$34.99

32

"

(81cm)

$43.99

$34.99
33

"

(84cm)

$43.99

$34.99
34

"

(86.5cm)

$43.99

$34.99

35

"

(89cm)

$43.99

$34.99

36

"

(91.5cm)

$43.99
$34.99